The Journal of Clinical and Preventive Cardiology has moved to a new website. You are currently visiting the old website of the journal. To access the latest content, please visit
www.jcpconline.org
.
Past Events
2013 EchoMedanta: Today and Tomorrow
Hotel Crowne Plaza Today, Gurgaon, India

27 Apr 2013 - 28 Apr 2013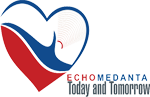 EchoMedanta: Today and Tomorrow
Theme 2013: State-of-the-Art with Clinical Perspective

Dates: 27th and 28th April, 2013
Venue
Hotel Crowne Plaza Today, Gurgaon, India


Course Chairman

Dr Ravi R Kasliwal
Hone your skills in Echocardiography

Listen and learn through interactive sessions covering coronary artery disease, valvular heart disease, cardiomyopathies, pericardial disease, cardio-oncology and more.

Special "how do I do it" sessions to acquaint you with stepwise approach to echocardiographic evaluation in heart failure, acute coronary syndrome, endothelial function assessment etc.

Showcasing 3D echocardiography, dyssynchrony assessment, deformation imaging, intravascular ultrasound and more, with their clinical applications.

Sharpen your knowledge in the often ignored topics like cardiovascular hemodynamics, right heart evaluation, etc.

Engage in hotly contested echo quiz and win prizes.

Feel free to interact with the Masters.
Bottom line: How echocardiography makes you a better clinician!

Post-graduate students
All other delegates

Before 1st March, 2013

Rs: 1500/-

Rs: 3000/-
1st March, 2013 onwards
Rs: 2500/-

Rs: 4000/-

Send your completed registration form and payment to:
Dr Ravi R Kasliwal,
Chairman, Clinical and Preventive Cardiology, Room no 9, 3rd Floor OPD,
Medanta- The Medicity, Sector 38, Gurgaon- 122001



For enquiries, contact:
Ms Sarlla Shakya, M: +91-8800494247, Ms Archana Mirgan, M: +91-9971698197,
Email: rrkasliwal@hotmail.com; rr.kasliwal@medanta.org