The Journal of Clinical and Preventive Cardiology has moved to a new website. You are currently visiting the old website of the journal. To access the latest content, please visit
www.jcpconline.org
.
Editorial Board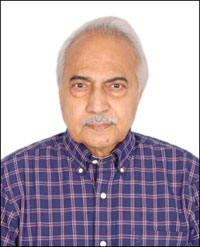 Gundu H.R Rao (USA)
Editorial Board Advisors
Gundu H. R. Rao,
is a tenured professor in Laboratory Medicine and Pathology, University of Minnesota, Minneapolis, Minnesota. He is also a faculty member in the departments of Anesthesiology, Lillehei Heart Institute, and Institute for Engineering Medicine at the University of Minnesota. He is an honorary professor at Sri Chitra Tirunal Institute for Medical Sciences and Technology, Rajeev Gandhi University of Health Sciences, Devaraj Medical College and Research Center, Kolar, JSS Medical Academy, Mysore, RV Dental College, Bangalore. He is the founder CEO of
SASAT (www.sasat.org)
, Global Alliance of Traditional Health Systems, Mind Body Society of India.